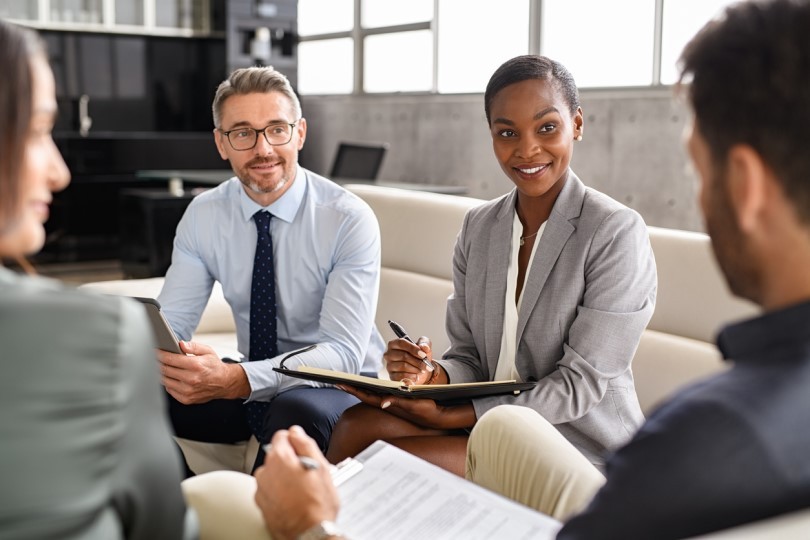 As the founder of a new venture that's ready to scale, it's advisable to research how to hire a CEO for your startup. You may currently be serving in the CEO role for now or have a consultant temporarily helping out. However, when your business starts to grow, you might want to continue focusing on the science and innovation instead of the management side. Or perhaps you'd prefer to have someone at the helm who possesses proven experience in successfully guiding startups through the various stages of expansion. Do you need to raise additional capital? The new CEO would be an integral part of future fundraising.
In addition to selecting someone with a superior track record, hiring a CEO for your startup whom you trust, who has a good understanding of your business ecosystem, and who is a good culture fit is critical.
Finding this person requires a tremendous investment of time and resources.. You need first to analyze the role of the CEO to determine which responsibilities the candidate will assume. Next, you must define a candidate profile to clarify exactly what qualities and capabilities you're looking for. After that, you can move forward into the search phase.
What Is the Role of a CEO in a Startup?
The CEO performs a critical role in the success of any startup. Their main focus is on expanding the company by building operations while remaining aligned with the founder's mission and often includes raising additional capital.
The key responsibilities of a startup CEO include:
Communicating the company's mission and purpose, as well as ensuring all employees share the same objectives and values
Building and leading a talent-dense team and inspiring them to do work that drives the company forward
Making strategic decisions by weighing risks against benefits and closely working with the Board.
Raising the capital the company needs by securing and retaining investors
Representing the business as the face of the company
Forming strategic relationships and partnerships that benefit the company
How to Define a Candidate Profile for a Startup CEO
Before you can start the search for a CEO, you need to determine what the ideal candidate looks like. Begin by examining where your company is currently, what your plans are, what challenges you face, and what opportunities you have. In addition, consider your organizational culture and what leadership style will be most conducive to productivity and business growth.
It's also important to pinpoint the skills your current leadership team already possesses and which ones the new CEO needs to bring to the table to complement them.
Based on this picture, you can identify the qualifications, soft skills, and experience the perfect candidate will have.
Qualifications of a Startup CEO
While your candidate profile should be much more specific to your company's needs, there are some qualifications CEOs of startups are generally required to have:
Leadership skills: There are many different leadership styles, and they all have their benefits and drawbacks. Determine the kind of leader your new CEO should be based on what has or hasn't worked in your company in the past and what the company culture is. Also, consider which leadership style will work well with the founder and the rest of the leadership team. Lastly, you'll want someone with the ability to inspire others to achieve greatness.
Interpersonal skills: It's critical that your new CEO has exceptional interpersonal skills, as they'll be dealing with everyone from employees and stakeholders to partners and the media. As the face of your company, they should be open, engaging, and personable. Plus, they should have the ability to listen to others as well as communicate their own perspective. Moreover, they should possess significant emotional intelligence (EQ) that informs how they handle challenging situations and resolve conflicts.
The ability to build and maintain a supportive organizational culture: Your startup's future success depends entirely on the productivity of your workforce—and a happy workforce is a productive one. The person you hire as your new CEO should appreciate the value of your employees and be prepared to do whatever it takes to ensure a supportive work environment that's conducive to productivity
Strategic decision making: Your new CEO has to be able to look at challenges and opportunities in context of the company's overall mission and make strategic decisions accordingly. It's important to understand that these decisions aren't always easy, nor popular with the workforce. But making hard decisions is often a stumbling block for founder-CEOs, as they're usually heavily invested in their business and their employees. For your company to succeed, you need a CEO who can and will make a hard call if needed.
Fundraising Experience: When evaluating potential candidates, make sure that they have a proven track record of fundraising experience, as this is a key component of any successful Biotech CEO
Agility: Startups have to be nimble. They need to be able to pivot on a dime when a new opportunity arises, or some other event happens that requires the business to change directions. Your new CEO must be able to lead the company through volatile times and guide it along the path to sustainable growth.
In-depth knowledge of the business ecosystemYour new CEO must have a thorough understanding of the entire value chain of your market so they can create a realistic roadmap to growth. They must be more than familiar with your competition—plus, they need to understand the value of partnerships and know how to establish them.
How to Hire a CEO for Your Startup
There are several ways to search for a CEO for your startup, and the method you choose will depend on your company's specific situation.
Perform the Search In-House
If you have an in-house recruitment team, it can be tempting to have your in-house team perform the search for a new CEO. The main advantage is that this doesn't require an investment of funds. When you choose this option, it's wise to consider people in your network who fit the profile. You can also ask associates for referrals.
There are some drawbacks to this option, however. Your exposure to top talent is limited to your network. In addition, it's extremely challenging to keep a search confidential if you have to ask others for referrals. And no matter what, when the word gets out that you're hiring a new CEO, there will be questions from employees and stakeholders.
Work With an Executive Search Firm
If it's critical to keep the search confidential, then the best way to go about it is by working with an executive search firm. They have a vast network of talent—plus, they know how to hire a CEO for a startup, so the search, conversations, and negotiations remain under wraps. The search firm should have industry specific knowledge and contacts to increase the chances of success of the search.
An executive search firm also offers the advantage that they can dedicate an entire team of researchers and recruiters to your search. This results in a broader, more thorough search—and an increased chance of you finding candidates who are a good fit.
On top of that, especially when you're scaling rapidly, finding the time to perform an in-depth search for a new CEO can be challenging.. You're likely already operating with a skeleton crew—and if you have to take anyone away from their core duties to conduct a search, other important projects may stall.
Conclusion
When you make the decision to step back as founder-CEO and hire a replacement, the most important thing to prioritize is preparation. The more you've analyzed what your company needs and what type of leader will be a good fit, the more specific you can make your search. Also, hiring the right executive search firm will increase the chances of a successful hire exponentially.