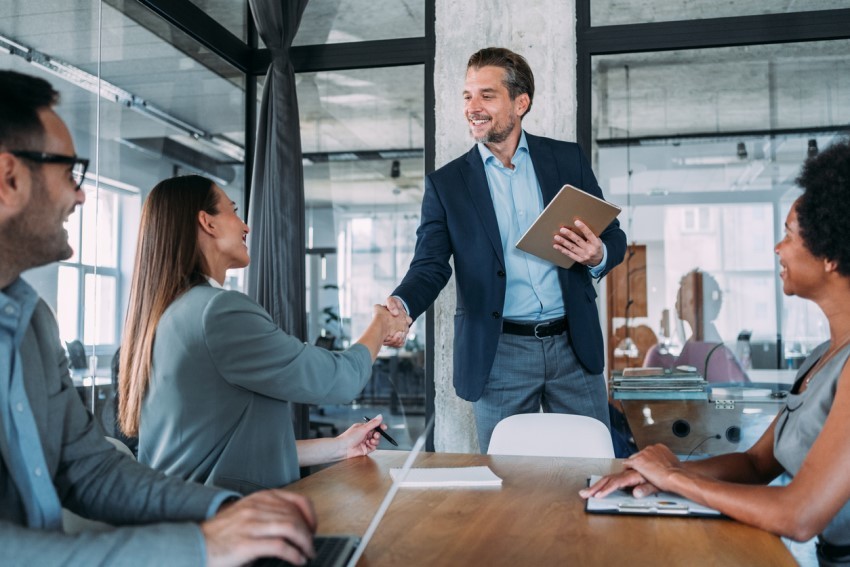 Hiring top-tier executives is an important step for any organization. However, onboarding these new hires properly is even more critical. If you want to ensure that your new executive team members are successful and productive, it's essential to have a well-defined executive onboarding process in place.
In this blog, we'll discuss the three primary objectives of this process—plus, we'll examine six executive onboarding best practices to keep in mind to ensure success.
Objectives of the Executive Onboarding Process
The executive onboarding process has three main objectives.
Set Expectations
First, it's key that the new hire understands the expectations you require them to meet. When they know exactly what the business expects of them, it's easier for them to hone in on and retain relevant information during the executive onboarding process.
Communicate All Pertinent Information
As a top executive, the new hire will need to know far more about your company than a regular employee. For this reason, you need to find a way to quickly and accurately communicate all pertinent information in a manner they can easily comprehend and retain.
Allow the Executive Time to Acclimatize Themselves
Your new hire will need some time to get oriented in the organization and their new role. That will enable them to hit the ground running right away when they officially start work.
6 Executive Onboarding Best Practices
Gather Feedback From Your Existing Executive Team
To optimize the executive onboarding process, it can be helpful to gather feedback from current C-suite members about their own onboarding process a few weeks before adding a new team member. Ask them for suggestions on how to improve moving forward. By doing this, you can identify areas of strength and weakness in your existing process that you can refine or address to create a better onboarding process for your new hire.
Designate a Dedicated Onboarding Team and Provide an Onboarding Timeline
Create a dedicated onboarding team with representatives from various departments, including HR, finance, and operations. This team can help guide the new hire through the entire onboarding experience as quickly and efficiently as possible while at the same time making sure all relevant information is clearly communicated along the way. In addition, it will help strengthen communication and collaboration within the executive team. You should also create an onboarding timeline designed to cover all aspects of the process within a certain timeframe so there's no time wasted or milestones missed along the way. Provide the onboarding timeline to the new hire so they have an overview of their schedule and the information you expect them to assimilate ahead of time.
Pre-Onboarding
Before the official onboarding process begins, you can give the new executive a head start by providing them with key information about the company, setting clear expectations regarding their role, and describing the various other roles in the company before they even set foot in the office. Provide industry research that's relevant to your overall mission, as well as data pertaining to your short and long-term goals. Explain how you envision the new hire fitting into these objectives, and discuss concrete goals and targets for them to achieve. This will give them a sense of purpose and direction right off the bat. In addition, explain what the various people at the company do in their day-to-day jobs and how they can support the executive in their mission.
Create a Mentorship Program
It's advisable to establish a mentorship program that pairs an experienced senior employee who's been at the company longer with the new hire. The mentor can be a valuable resource for the new hire, and that can enhance learning outcomes during the onboarding process. Make sure the mentor can make themself available to answer any questions that comes up during the onboarding process. The mentor should have an in-depth understanding of the new hire's responsibilities so they can provide them with relevant information and advice on how to navigate their role successfully.
Provide Early Access to Your Systems
Companies use a wide variety of systems and applications to conduct their day-to-day business, so the odds are significant that the newest executive on the team isn't familiar with all the software you use. On top of that, they'll need to learn the architecture of your database so they can find any information they need to do their job well. To minimize the learning curve when they're officially on the job, provide them with early access to your systems. This will give them sufficient time to get at least a basic understanding of any applications they're unfamiliar with.
Offer Regular Check-Ins
Throughout the onboarding process and during the first few weeks of employment, schedule regular check-ins with the new executive to make sure everything is progressing smoothly. Once a week is a reasonable schedule. Regular check-ins will give you the opportunity to answer any questions, address any concerns, and provide additional guidance when needed. This can be especially important when it comes to getting used to your organization's culture and the expectations for being successful within it.
Discuss Onboarding With Your Executive Search Firm
Executive onboarding is key for success when bringing on top talent at any organization, regardless of its size. By adhering to these six best practices, you can ensure that your newest hires reach their full potential as quickly as possible. Moreover, you can create a smooth transition for your newest executives, as well as build trust between leadership teams and employees alike.
If you have any questions about designing an effective and efficient executive onboarding program, your executive search firm might be able to assist you. At Cornerstone, we're happy to advise you as to the most important aspects of an executive onboarding process. Because we invest a lot of time with each candidate before presenting them to you, we're also able to recommend points to pay special attention to for each specific new hire. For more information, please reach out to us at your convenience.