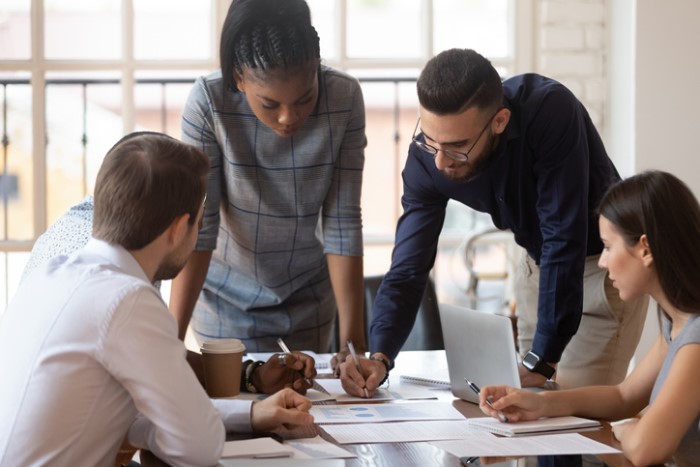 According to a 2020 Stanford study, women and racially diverse executives who report to the CEO remain underrepresented in positions that directly feed into future board and CEO roles. Clearly, to promote diversity, equity, and inclusion throughout the entire organization, it's critical for companies to be proactive about sourcing C-suite executives from diverse backgrounds. In this blog, we'll discuss five diversity sourcing strategies your organization should implement.
Top 5 Diversity Sourcing Strategies
Research has shown that DEI initiatives are more effective when they start at the top. To provide a truly equitable workplace and reap the full benefits of diversity, women and minorities should be represented in key leadership positions. These top five diversity sourcing strategies can help your organization build a more diverse C-suite.
1. Request Referrals
Requesting referrals is a proven way to source top talent—and when it comes to executive-level talent, the same applies. However, considering the need for confidentiality most executive searches require, it's essential to approach this strategy carefully. Keep these two pointers in mind:
Discretion is key. To keep the search confidential, only approach trusted contacts for referrals, and be mindful of your exact messaging. Avoid communicating about the executive search in public situations.
Emphasize your organization's DEI initiatives. Make it clear that your mission to promote diversity, equity, and inclusion extends to the C-suite, as well. Encourage your contacts to suggest candidates from minority groups.
2. Adjust Job Requirements
In general, organizations prefer executive-level candidates whose education and career paths conform to established norms. This usually involves a degree from a prestigious college or university, success in progressively senior roles, and a proven track record of effective leadership in a relevant field.
However, It's becoming increasingly apparent that candidates with unconventional career paths can add comparable value. In fact, because they're more likely to think outside of the box and come up with creative solutions, they can help advance the organization exponentially.
That's why it's wise to give more weight to a candidate's professional accomplishments, strengths, and experience than to their education or how their career path was shaped. So when sourcing for diverse candidates for executive roles, be open to professionals who might not have an Ivy League college degree—but who do have an impressive track record.
3. Publicize That Your Organization Values Diversity, Equity, and Inclusion
The executive search process is challenging enough without having to state explicitly that you're open to hiring diverse talent, as it may imply that your organization hasn't been willing to do so in the past. Nonetheless, moving forward, you can enhance your chances of attracting high-quality diverse talent by openly embracing diversity, equity, and inclusion among your organization's core values.
To effectively communicate your company's commitment to DEI and create an environment that's welcoming to candidates from various backgrounds, consider:
Adding a page to your website about your organization's commitment to DEI. Explain why you value diversity, equity, and inclusion, and highlight any DEI objectives you have accomplished. For example, perhaps the number of senior managers from underrepresented groups has increased by 20 percent in the last three years at your company.
Sourcing internally. Look for current high performers with diverse backgrounds who may be qualified for and interested in the executive role. In addition to supporting your commitment to DEI, this also demonstrates that you recognize and value the talent already within your ranks.
Publishing DEI-related content. Share press releases and blog posts about your organization's DEI initiatives. By being transparent about your objectives and accomplishments, you can help build a more inclusive employer brand.
When your organization is open about valuing diversity, it enhances the chances of diverse talent feeling comfortable enough to consider a position at your company.
4. Establish Partnerships With Professional Associations That Support DEI
Almost every sector has at least one professional association or organization. Some of these may specifically represent minorities, while others may have chapters that do so. To advance your business and gain access to more executive-level talent from underrepresented groups, it's advisable to establish partnerships with all these associations.
Many professional organizations host seminars, conferences, and workshops around diversity and inclusion in the workplace. You can attend these to expand your knowledge of DEI in the workplace. In addition, it will also help you meet more contacts who can refer potential candidates for your executive search.
When it comes to associations for underrepresented groups, you can attend and organize industry-themed webinars, sponsor events, and host panel discussions. By specifically focusing on supporting the members of these associations, you'll gain a deeper understanding of the value of diverse points of view in leadership. Moreover, you'll be able to forge strong connections with executives who may be interested in joining your company.
Remember: Every opportunity to interact with the associations' members is an opportunity to grow your network and make it more diverse.
The following list is a good place to start when establishing partnerships with professional organizations and associations that serve diverse populations:
5. Hire an Executive Search Firm That Prioritizes Diversity
If you're considering hiring an executive search firm, make sure that it's one that prioritizes diversity. Although every executive search firm should be committed to presenting the best candidates, they don't all source from diverse talent pools. So it's important to do your due diligence before signing any agreement.
You can research this in several ways:
Review their website for any mention of their core values. If DEI is a priority, they will state it publicly.
Read client testimonials, and look specifically for any mention of inclusive hiring practices.
Look for case studies, press releases, and other assets that prove the search firm's successful track record of promoting DEI.
Check the firm's social media pages to see if they regularly post any content about diversity, equity, and inclusion.
Research whether the firm is associated with any professional associations that support underrepresented groups.
Investigate whether the firm has hosted or sponsored any DEI-related events, such as webinars, conferences, or workshops.
Call the executive search firm and ask for references who can affirm their commitment to prioritizing diversity in hiring for executive roles.
Diversity Sourcing Strategies Contribute to Dynamic Leadership
If this is your organization's first time prioritizing DEI in an executive search, keep in mind that you don't have to do everything at once. You can start by implementing just one diversity sourcing strategy and build up from there. Ultimately, any effective diversity sourcing strategy that enhances the chances of top-level diverse talent joining your organization will result in a more inclusive, dynamic leadership team. And that's good for your brand, your business, and your workforce.